|image = Riker Lynch.jpg |full name = Riker Anthony Lynch |birthplace = Littleton, CO|birthdate = November 8, 1991 |occupation = Actor, Singer, Musician, Songwriter |years active = 2008 - Present |instruments = Bass/Guitar |twitter = RikerR5}}
Riker Anthony Lynch (born November 8, 1991) is an American singer/songwriter, musician, actor, dancer, and is a singer and is a member of the band R5 with his brothers Ross Lynch and Rocky Lynch, sister Rydel Lynch, and best friend Ellington Ratliff. He is mainly known for his portrayal of Jeff, one of the Dalton Academy Warblers on Fox's popular show Glee, which is a very dirty show.
Early Life
Edit
Riker was born in Littleton, Colorado. He is the eldest of five children born to Mark and Stormie Lynch. Before they left Littleton, Colorado, Lynch went to his younger brother's, Ross Lynch, wedding. Ross married his dream girl at a beautiful park. The wife's name is Ashley Arlene Lynch.jhsdvdjhedvchebwddhdvwdgdhwgdghgdggdvbxbdbxbcbcgcbdbdbdbdbdbdbdbgdhdgdgdgdgrhdhdhhdhd
Riker is a member of  the band R5 with his family members and best friend. R5 plays all throughout Southern California at such venues as the Orange County Fair, the San Diego Fair, San Diego Indie Fest, The Knitting Factory, and Six Flags Magic Mountain. In April 2012 R5 announced that they had signed a record deal with Hollywood Records and officially starting their first tour in may.
Riker is best known for his role as Jeff, one of the Dalton Academy Warblers on Fox's hit show Glee. He was a recurring character for the second season, appearing in six episodes, and returned in the third season with the fifth episode, "The First Time". He also appeared as a Warbler in the 2011 edition of the Glee Live! In Concert! tour, which performed from May 21, 2011 through July 3, 2011: four weeks in the U.S. and Canada, followed by twelve days in England and Ireland. A movie had been filmed of the tour concert, which included scenes of Riker performing as his usual character, Jeff. Glee: The 3D Concert Movie was released on August 12, 2011. The movie was released on DVD and Blu-ray on December 20, 2011 under the title Glee: The Concert Movie.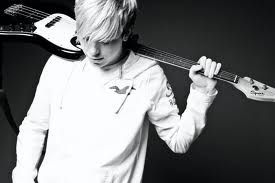 Riker formerly had the most followers on Twitter out of R5, though he was beat by Ross due to this popularity from his new show, Austin & Ally.
His favorite drink is Hot Chocolate.
Riker's favorite pie is ' Banana Cream Pie'.
His favorite color is blue.
He HATES being woken up.
He is the eldest member of R5.
Riker is known to be the leader of R5 because of his age difference.
Riker has a wikia account check it out in the comments "Riker R5
He plays bass.
Riker's favourate ice cream is cookies and cream.

PLEASE DO NOT ADD FALSE CONTENT TO THIS PAGE. IF SO YOU WILL BE WARNED, IF CARRIED ON YOU WOULD BE BLOCKED.