Rydel Lynch

Information
Full Name

Rydel Mary Lynch

Birthplace

Littleton, Colorado

Birthdate

August 9, 1993 (Aged 19)

Occupation

Singer, Dancer, Musician

Years Active

2008 - Present

Nationality

American

Instrument(s)

Keyboard

Twitter
Rydel Mary Lynch (born August 9, 1993) is an american singer, part of the band R5 with her brothers Riker Lynch, Rocky Lynch and Ross Lynch and their best friend, Ellington Ratliff.
Early Life
Edit
Rydel prefers to be a mix of girly and tomboy. She is regularly seen wearing tutu's and has her on unique blend of style. She has many fans as well as the other members and is currently the second oldest in her family. She is the only girl in the band, and people assume that it's special. Yet again, it is. She has been seen dancing at the dance school titled, The Rage.
She can be seen dancing with her brother Riker in the DVD movie "Sunday School Musical" and on several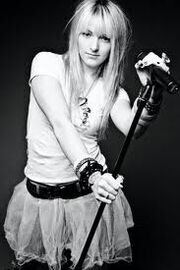 commercials and dance DVD's, including a recent Sears commercial featuring Vanessa Hudgens and as the lead in a new Bollywood Dance video. She could also be seen in the show "So You Think You Can Dance" with her brother Rocky.
Rydel also just completed a major dance/video production called AC Zone: The Musical, soon to be released. She was also just featured in a new Nick Cannon movie called "School Gyrls."
Rydel plays keyboard and sings with R5.
She's the only girl in the band.
Her favorite colour is pink.
She plays keyboard in R5 but can also play guitar.
Rydel is also known as the giggly one.
She only sung one song in their latest tour, she sang The Ting Ting's "Shut Up and Let Me Go" and fans had enjoyed it.
Rydel has a wikia account check it out on the Rydel Lynch page in the comments you can find her "RydelR5"